About the American Pain & Sleep Center
Dr. David G. Austin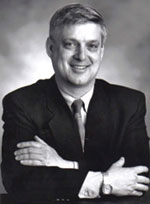 David G. Austin, D.D.S., M.S., a 1977 graduate of The Ohio State University College of Dentistry, is formally trained in the treatment of orofacial pain, headaches, temporomandibular joint disorders and sleep disorders and his practice is focused exclusively on these areas.
Dr. Austin practiced general dentistry in Columbus, OH, from 1980-1988, until his interest in pain and sleep disorders led to his completing a joint Fellowship/Master's Program at the University of Medicine and Dentistry of New Jersey Dental School's Center for TMJ Disorders and Orofacial Pain Management and the Graduate School of Biomedical Sciences in 1992.   The Orofacial Pain program meets the highest level of training per the American Association of Dental Schools' guidelines.
Dr. Austin is currently Clinical Assistant Professor in the Department of Specialty Medicine at the Ohio University College of Osteopathic Medicine. Dr. Austin is currently serving on the Board of Directors for the Ohio Academy of General Dentistry and as President of the Ohio Pain and Sleep Disorders Study Club. He also served on the Board of Directors of the Columbus Dental Society and the American Academy of Orofacial Pain. Author of numerous publications, Dr. Austin recently published a chapter in Sleep Medicine Clinics. Dr. Austin served as a Clinical Assistant Professor in The Ohio State University Department of Neurology until July 1998 and was Assistant Director of the OSU headache Clinic.     Dr Austin has board certification at the diplomate level in pain management by the American Academy of Pain Management and by the American Board of Orofacial Pain.  Dr. Austin is also Board Certified in Dental Sleep Medicine.
Dr. Austin is a member of the following professional societies: